The Englishman who posted himself and other curious objects by John Tingey, published by Princeton Architectural Press, New York, 2010.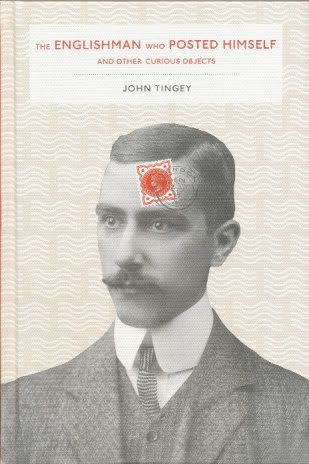 In 1898 Willie Reginald Bray purchased from his local post office for 6d. a copy of the Post Office Guide, a reference book published by the British Post Office, detailing its costs, services and regulations. This simple acquisition resulted in Bray unleashing a torrent of tests and challenges for the Post Office.
Where regulations stipulated that "letters should be clearly and legibly addressed" and "all letters must be delivered as addressed", Bray responded by posting articles addressed with riddles, rhymes and pictures. He wrote a card addressed to "Any Resident of London" – it was returned to Bray "insufficiently addressed" and surcharged 1d.
One card he addressed to "The resident" with a picture of a house in Bournemouth, Hampshire. The article was returned undelivered with a rhyme written by a postman:
"Pursuing this game we hope there are not many,
However for your hobby you will have to pay a penny."
Bray also had a great deal of fun posting a wide range of articles that were not expressly prohibited by the Post Office. He posted his dog, as well as a single onion, sea weed, and famously, himself. Posting people was permitted, remarkably, under the regulations:
"A person may also be conducted by Express Messenger to any address on payment of the mileage charge."
No proof survived of Bray's first mailing of himself in 1900, so in 1903 he re-mailed himself using the Registered Mail service, obtaining a certificate of registration as evidence! In 1932 Bray posted himself for the third and last time, re-enacting the scene as a publicity stunt. He was delivered by two postmen, with a photographer to record the event.
In 1899 Bray began to collect autographs, commencing with a request to President Kruger of the Transvaal for his signature. Bray quickly shifted his focus to collecting autographs, and by 1906 Bray claimed that he had the world's largest autograph collection. He nicknamed himself the "Autograph King", and sought the signatures of celebrities, statesmen, military commanders, movie actors, even criminals – in short, anyone who had been or was in the news of the day.
Bray died in 1939, and his collection sold and dispersed in the 1950's. The vast collection developed by Bray is remarkable for the fact that he created every article within it. He addressed or produced every article he posted and returned to him for his collection. His postal curiosities are today highly collectable, and the intriguing story of one man's collection is recounted beautifully in this book written by John Tingey.